Location: Home > Products&Services > Characteristic technology
Associative Polymer EOR Technology
---
Hydrophobically associative polymer is similar to the conventional water-soluble polymers in structure, but with very small portion of hydrophobic or amphiphilic monomer (<2%) incorporated into the polymer backbone by copolymerization or chemical modification. So, it's also called:  
● associative thickener/viscosifier  
● associative polymer  
● hydrophobically modified water-soluble polymer  
● hydrophobically associative water-soluble polymer
Associative polymer (AP) flooding agent, originally developed by "Academician Pingya Luo (Chinese Academy of Engineering) Project Team" under the China national key research programs, is aimed to solve the exploration difficulties of thick reservoir, high permeability reservoir, and high temperature & high salinity reservoir in offshore heavy oilfield exploration. With its good viscosifying action, the AP flooding agent has been widely used in polymer flooding and combination flooding in the major oilfield in China and showed remarkable properties in temperature resistance and salt tolerance.
3.2.2 Fundamental characteristics research of AP
(1) Introduction on Mechanism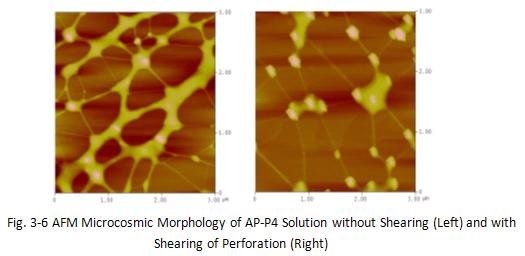 ● The super-molecular net-structure is formed in solution through hydrophobically association action, as shown in Fig. 3-6.
● Reversible association enables the polymer to own excellent rheological property.
(2) The influence of AP concentration on microcosmic morphology
1) low AP concentration of 5 mg/L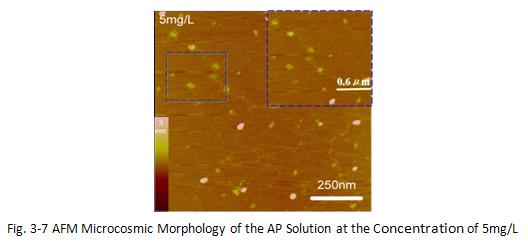 ● Intermolecular association was very weak at low concentration solution ;
● Polymer molecules exist in the form of long chain (The length and height of the molecular chain is 600 nm and 0.1 nm respectively; the height of the aggregation is about 0.6-0.8 nm, and the diameter of the aggregation is 20-25 nm).
2) The AP concentration of 200mg/L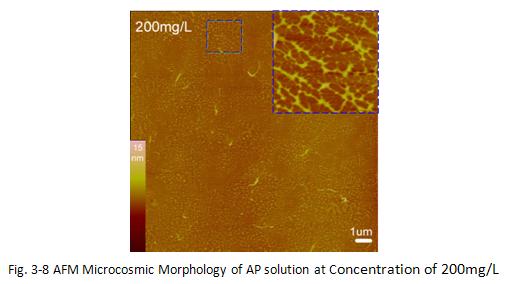 ● Amount of polymer aggregates per unit area increased obviously.
● The initial aggregates formed by different tree-branch-like connections and the width and the height of the large chain were about at 30nm and 1.2nm respectively.
● Stable net structure had been formed. Primarily, thick chains were connected by thin chains.
● There was thick chain width 160nm and height 6nm, besides, thin chain width 40nm and height 2nm.
(3) The influence of AP molecular weight
Table 3-1 ηapp of Different Product
Sample
Mw
(kDa)
ηapp
(mPa·s)

HPAM, China

22, 000

25.5

Mo4000, Japan

21, 000

20.5

SWF(FO4990), France

20, 000

18.4

Colloid 11754, Britain

18, 000

12.5

AP

9, 200

46.5
The ηapp of different product was studied at the 1500mg/L of Cp, 5000mg/L of TDS, and 70-75°C. The study showed that molecular weight wasn't a key factor to affect the ηapp.
(4) Temperature-resistance and thermo-thickening properties
The contrastive analysis of temperature-resistance and thermo-thickening properties showed in Fig. 3-10.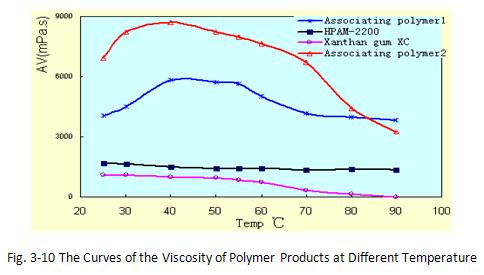 (5) Salt-resistance and salt-thickening
The contrastive analysis of salt-resistance showed in Fig. 3-11.
Polymer Flooding Series
Polymer Flooding Applied in Oilfield