Location: Home > Product Series > Fracturing Products
GRF-1 Associative Polymer Viscosifier/ Adjuvant (GRF-2)
---
Applied in Non-crosslinked Fracturing Fluid
Crosslinking technology with guar gum as gelling agent is widely used for fracturing fluid in hydraulic fracturing practice. However, with the increasing numbers of well operation in ultra-low permeability layers and tight oil formations, it brings much higher requirement to the fracturing fluid, such as cleaner, better temperature stability, better shear resistant, lower friction, etc. Meanwhile, simpler in operation and lower cost are always the target to pursue. The existing guar gum fracturing fluid system based on crosslinking technology no longer meets the requirements. Our GRF series (viscosifiers and the adjuvants) products are therefore developed.
Application
hydraulic fracturing,CO2 foam fracturing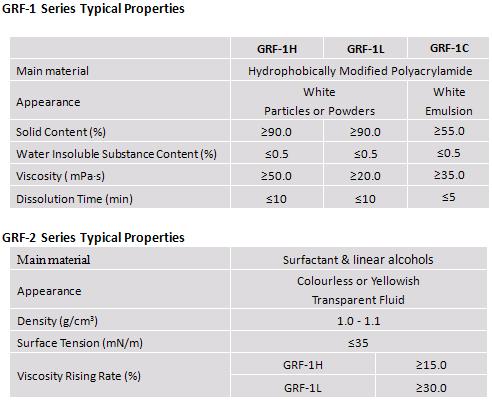 Fracturing fluids prepared with our GRF series offer the following advantages
● Simple recipe: Viscosifier (GRF-1) + Adjuvant (GRF-2) + breaker + clay stabilizer
● No need crosslinking. The fracturing fluid can meet the proppant-carrying capability requirement without crosslinking.
● Cost-efficient. Small amount of dosage and simple recipe make the fracturing fluids more cost-efficient. Meanwhile, unlike guar gum which prices fluctuating largely, our GRF series products have a more stable and cheaper price.
● Good temperature resistant. The fracturing fluid could satisfy the fracturing requirement of 170°C well temperature. Meanwhile, GRF-2AF is an anti-freezing thickening adjuvant applicable for low-temperature environment.
● Low friction. The friction of the fracturing fluids prepared with our GRF series is largely lower than guar gum fracturing fluids, and even lower than clean water with certain flow rate. Low concentration GRF-1 solution (0.1%~0.2%) can be used as slick water with its good drag reduction performance.
● Clean. After breaking, the residue content of our non-crosslinked fracturing fluids is only 8.9mg/L (while the residue content of guar gum fracturing fluids is about 600mg/L). Therefore, our fracturing fluids are also called "clean fracturing fluids".
● Shearing resistant. The fracturing fluid still keeps high viscosity after shearing.
● High density solution can be prepared by adding KCL.
● GRF-1 is also applicable in acidic conditions for CO2 foam fracturing. It shows excellent foam stability and has long half-life.
● GRF-1C has same property as the powders, but with shorter dissolution time and can be easier in operation.
Field Cases
The fracturing fluids prepared with our GRF series had been successfully applied in conventional sand fracturing, staged fracturing for horizontal wells, hydraulic jetting fracturing, N2-foam fracturing, and clastic rocks slick water fracturing of many major oilfields in China over 400 wells. In which, the highest applied temperature is 153.0°C, and the maximum (single layer) combined sand volume is 65m3. Good stimulation has been achieved in all wells.
Associative Non-Crosslinked Fracturing Fluid Technology
Fracturing Fluid Applied in Oilfield